Seasport Divers Scuba Boat Dives
Duration: 4-5 hours
Location: South Shore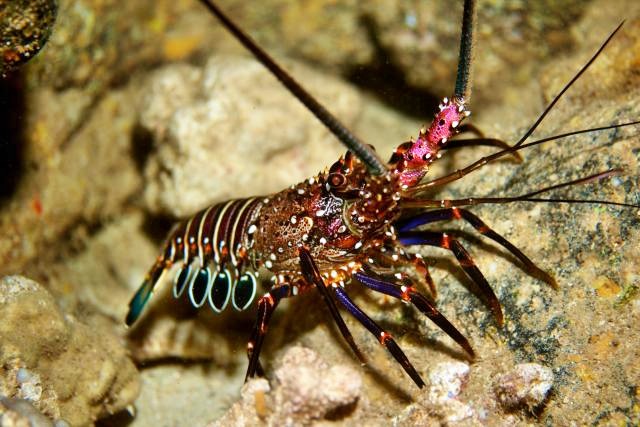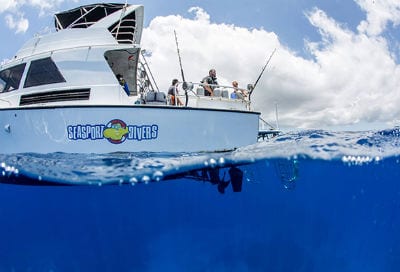 Seasport Divers Scuba ~ Kauai's Best Boat Diving Since 1986!
All of the dives on these boat trips are guided tours led by an instructor and the groups are small – no more than 7 divers to 1 instructor.
Bountiful marine life will dazzle even the most discriminating diver. You're likely to see Hawaiian Spinner Dolphins, large schools of Milletseed and Pyramid butterfly fish, the rare Bandit angelfish, Spotted Eagle Rays, Manta rays, Octopus, Lobster, the endangered Hawaiian Monk Seal, Galapagos Sharks, White Tip and Grey Reef sharks.
Activity Details
Morning Trip Certified Divers:
The MORNING TRIP meets at 7:30 am in the Poipu shop.
This trip is for good divers, you don't have to be an expert, but sometimes there is a drift dive in the morning so good buoyancy control is necessary to perform a safety stop, hovering at 15 feet for 3 minutes.  There is a 20 dive minimum to be qualified for this dive trip. The first dive is usually 80-90 feet and the second is 60-70 feet. Dive sites in the morning depend on water quality and customer preference but include, Brennecke's Ledge, Ice Box, Fastlanes, General Store and Sheraton Caverns. You're usually back at the shop around 12:00 pm. Water, juice and cookies are provided.
Check in Times:
AM Charter, 7:30 am experienced Divers Only
Afternoon Trip Non-Certified & Rusty Divers:
The AFTERNOON TRIP meets at 12:30 pm in the Poipu shop.
This trip takes new divers, divers that haven't dove for a while, experienced divers that want a shallower dive profile, and first time divers in the Discover Scuba Diving program. The pace is a little bit slower and the dive sites are a little bit shallower. Both dives in the afternoon are in that 40-60 foot range. The groups are separated by experience, so certified divers have their own group and their own instructor and non-certified divers are diving together with their own instructor. The afternoon dive sites are also selected according to water conditions and customer preference and include, Nukomoi, Arena, Stonehouse and Sheraton Caverns. You're usually back at the shop around 5:00 pm. Water, juice and cookies provided.
Check in Times
PM Charter, 10:30 am pool lesson 12:30 pm boat ~ inexperienced or rusty divers
NI'IHAU DIVE ~ KEYHOLE ARCH – LEHUA ROCK:
Some of the Hawaiian Islands most pristine and dramatic diving available takes place off the Forbidden Island of Ni'ihau.
NI'IHAU ARCHES
The morning begins at 6:00 am in Poipu Kauai's south shore. Ni'ihau and Lehua rock lie 17 miles southwest of Kauai and are accessible by way of the Kaulakahi channel. The crossing takes about 2 ½ hours and while the morning ride over is usually calm and clear, the ride home can be as famous as the diving.
Ni'ihau dive is seasonal & available Tuesdays & Fridays only booking in advance is a must.
Please Note
72 hour notice of cancellation is required for a refund.
There are no timeshare visits required to enjoy our discounts!
Call 1-866-897-1637 for additional discounts available for large groups!