discount price
Save: $14.00
Napali Coast Sunset Dinner Sail
Watch the colors of the coastline change as the sun sinks into the ocean; it's truly gorgeous. Make sure you bring your camera on this spectacular Napali coast sunset dinner sail & sightseeing tour.
This pure Kauai sightseeing tour is for those of you who want to see the Napali Coast and do some whale watching, in season, but are not interested in snorkeling. On board, help yourself to a delicious selection of appetizers and dinner, island juices, soft drinks, beer, wine, mai tais, and champagne at sunset. Tour returns to Port Allen after watching the sunset into the ocean.
Your Tour Includes
See the Napali Coast, amazing marine life, and more!
Stir-fry Dinner with Hawaiian influence
Mai tais, beer, wine, and soft drinks during cruise. Sunset champagne toast
The chance to see humpback whales (peak season Dec-Apr)
Tour Details
Check in at 2:00 p.m. in Port Allen (time varies by season).
This tour will sell out booking in advance is recommended.
For safety, no pregnant women or children under 5 allowed on this tour.
Dinner Menu:
Pupus
Meat, Cheese & Cracker Platter, Veggie Crudite: V/GF, Ranch: V, Roasted Red Pepper Hummus: V/GF
Dinner
Teriyaki Chicken: GF, Teriyaki Tofu: V/GF, Roasted Stir Fry with Veggies: V/GF, Somen Noodle Salad: V, Hapa Rice: V/GF, Local Garden Greens with Lemon-Herb Vinaigrette: V/GF
Dessert
Double Chocolate Brownies – Vegetarian
Drink
Water, Island Juices & Soft Drinks
Island Spritzer (Passion Orange, Guava, Pineapple) V/GF
Beer, Wine, Koloa Rum Ginger Mai Tai & Sunset Champagne Toast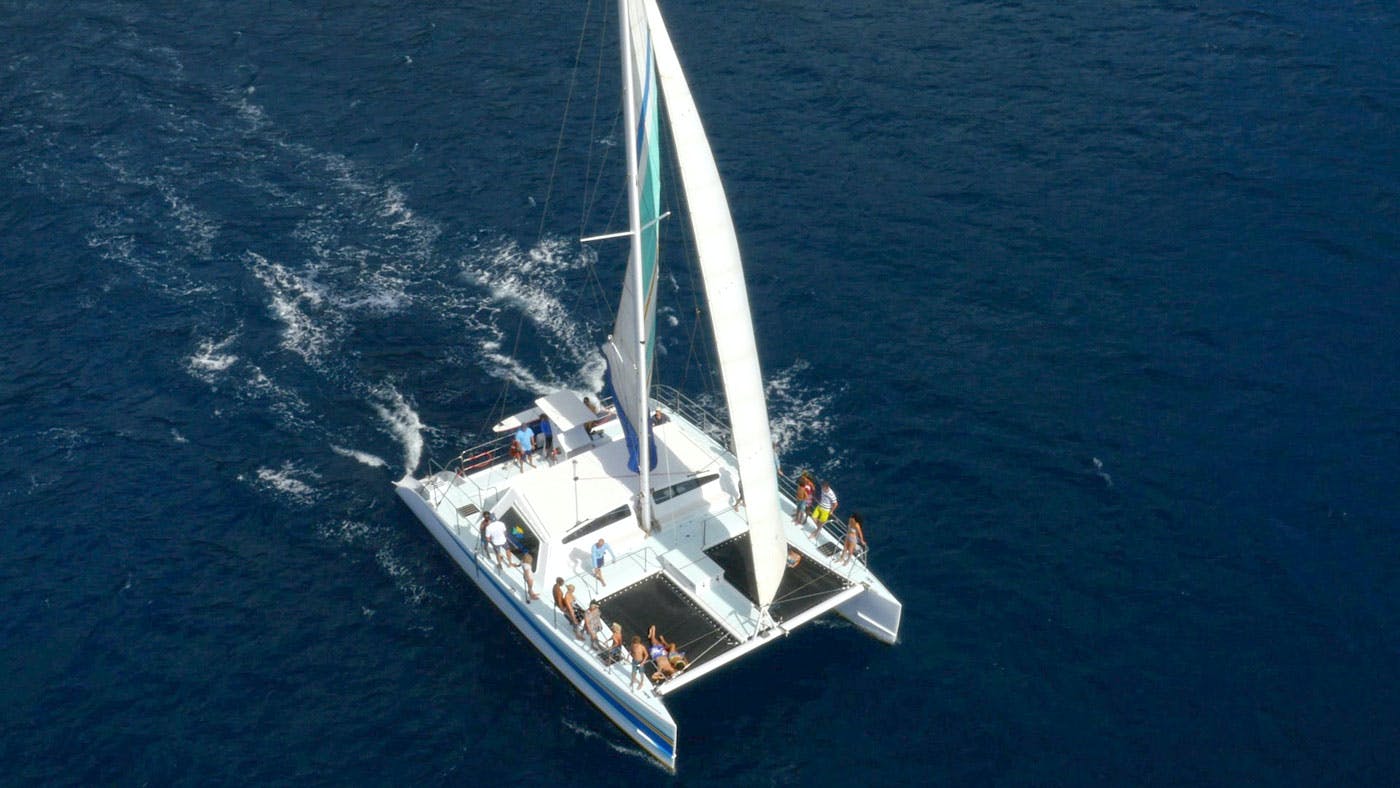 About Leila:
With her sleek construction and design Leila slips quickly and smoothly through the waters & the catamaran design allows for level sailing. With no more than 10 degrees of "heel," you won't be sailing sideways. Leila is a 50-foot long and 28-foot wide motorized sailing catamaran provides ample space to move around. Coast Guard certified to take 45 passengers, passenger count will not exceed 37 which leaves ample space to move around and enjoy the adventure.
Although Leila's two-hull design is based on a historical prototype, she truly is a modern, state-of-the-art vessel. The space-age epoxy/glass construction used to build Holo Holo was used in making Leila as well. This composite makes for a strong and safe structure. The mast and sail are of the best quality and modern design.
Toll Free Reservations by Phone:
1-866-897-1637
Office Hours: 7:30 a.m. - 4:30 p.m. :: The Current Kauai Time is: 8:17 AM
PLEASE NOTE: 72 hour notice of cancellation is required for a refund.
There are no timeshare visits required to enjoy our discounts!
Call 1-866-897-1637 for additional discounts available for large groups!