Arizona Memorial, Pearl Harbor & USS Missouri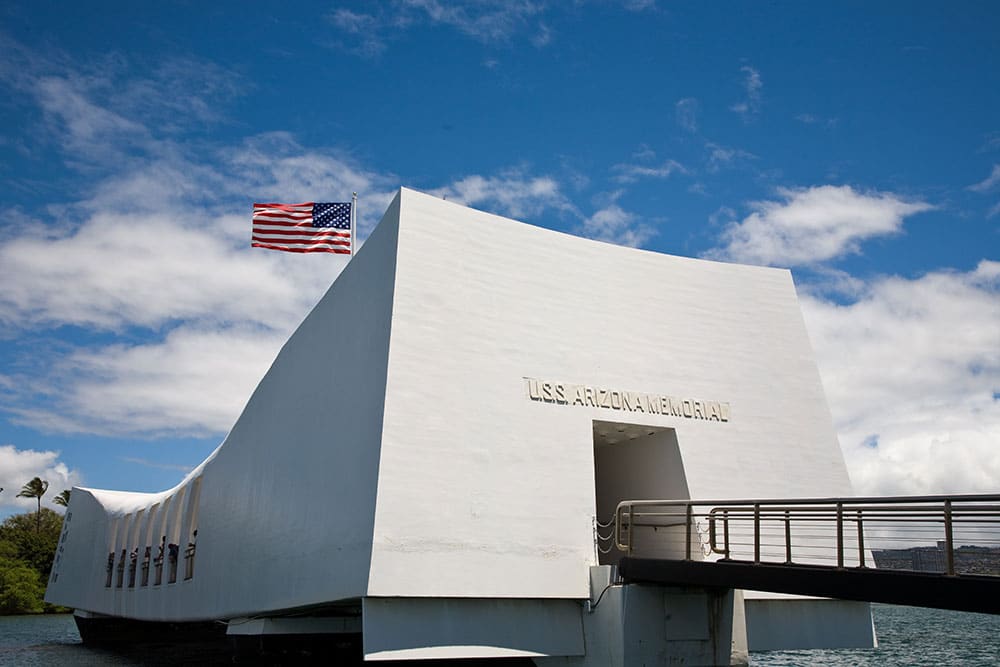 Travel to Pearl Harbor From Kauai to Oahu
Travel to Pearl Harbor from the outer islands.  A tour that will take you on a journey through history from the site of the attack on Pearl Harbor to the signing of the Japanese surrender aboard the USS Missouri. See artifacts of the attack at the Visitor Center and ride the Navy launch across Pearl Harbor to the Arizona Memorial, sitting atop the sunken remains of the USS Arizona battleship. The USS Arizona houses the remains of over 1,000 sailors killed in the 1941 attack and was declared a National Historic Landmark in 1989.
The USS Arizona Memorial was dedicated in 1962 and is listed on the National Register of Historic Places. Explore the USS Missouri, the last battleship built by the US Navy, which served from World War II through Desert Storm, with our state-certified guides for a complete tour of the Battleship. The USS Missouri was the site of the Japanese surrender to the Allies in 1945.
View 'Iolani Palace, the only royal palace on American soil and other historic attractions of downtown Honolulu including Kawaiahao Church, the State Library and Archives, the famous statue of King Kamehameha the Great, Honolulu Hale and the Mission Houses Museum. And finally, honor the heroes at Punchbowl National Cemetery of the Pacific and Court of the Missing.
Activity Details
TOUR DETAILS:
Includes round trip airfare and narrated tour
Arizona Memorial Visitor Center
Arizona Memorial
Punchbowl National Memorial Cemetery of the Pacific
Kawaiahao Church, State Library and Archives, City Hall, the Mission Houses
Iolani Palace, King Kamehameha Statue
Waikiki (bring money for a lunch stop in Waikiki)
Diamond Head Crater drive-through (if time permits)
Nuuanu Rain forest & Pali Lookout
USS Missouri
$1.05 is added to each ticket purchase to cover the National Park Service booking fee
TOUR INFORMATION:
Shirt and shoes are required to board the Arizona Memorial. Restrictions are in force. Swimsuits are not permitted. USS Arizona Memorial "No Bags Allowed" Policy: As the Arizona Memorial is located on an active military base, strict security measures are currently being enforced. No purses, handbags, fanny packs, backpacks, camera bags, diaper bags, luggage or other items that offer concealment are allowed in the visitor center or on the memorial. Strollers with pockets and compartments must be empty before being allowed in the visitor center. Personal cameras are allowed. Baggage storage is not available and there are no alternatives in the local area for bag storage. Total taken at time of reservation. No refunds for cancellations on this tour.
Please Note
72 hour notice of cancellation is required for a refund.
There are no timeshare visits required to enjoy our discounts!
Call 1-866-897-1637 for additional discounts available for large groups!