Luxury Napali Coast Raft Tour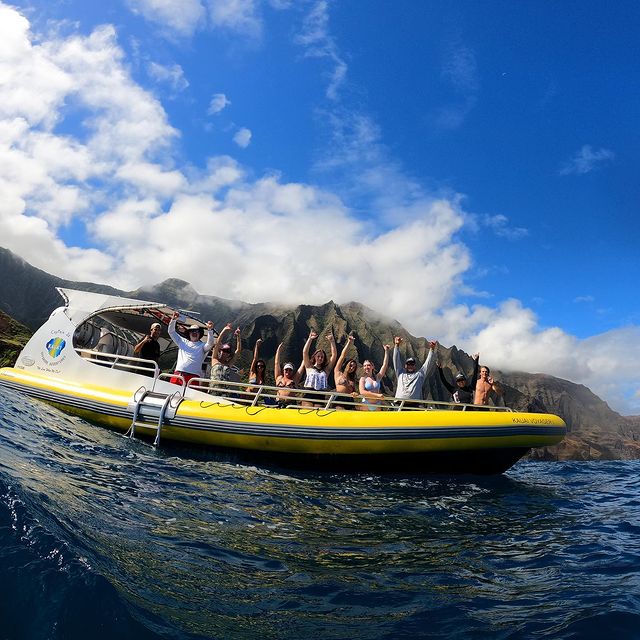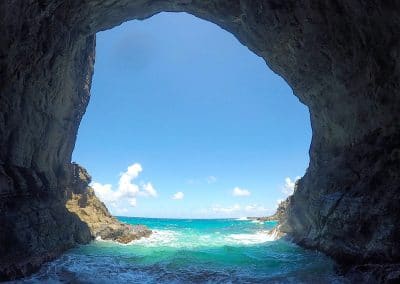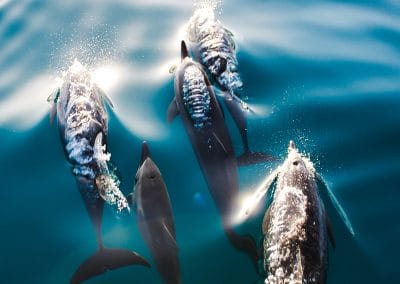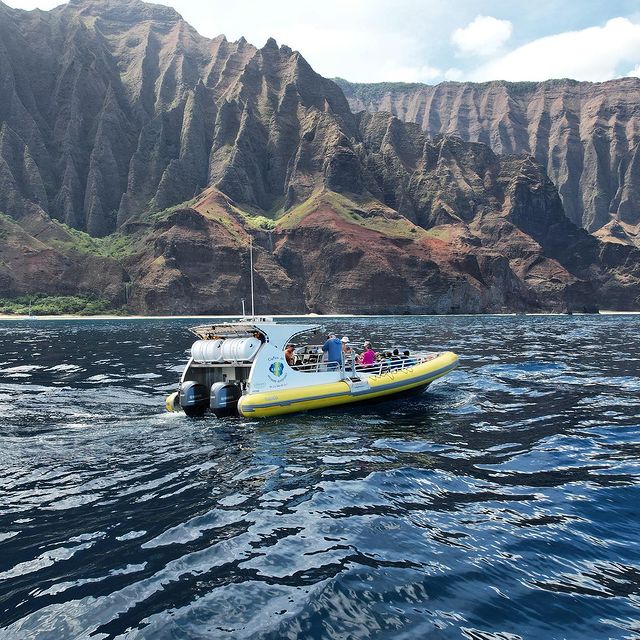 Luxury Napali Coast Raft Tour Offering Enhanced Comfort for Epic Adventures! 
Nā Pali, literally meaning "the cliffs", with heights soaring up to 4,000 feet, provide a grandeur of deep, narrow valleys ending abruptly at the sea. Waterfalls and swift flowing streams continue to cut these narrow valleys while the sea carves cliffs at their mouths.
The Nā Pali Coast is a sacred place defined by extraordinary natural beauty. The rugged terrain appears much as it did centuries ago when Hawaiian settlements flourished in these deep, narrow valleys. Existing only on the food they could grow and the fish they could catch. Extensive stone walled terraces can still be found on the valley bottoms where Hawaiians once lived and cultivated taro.
Enjoy an epic adventure along the world's most magnificent coastline. This fast paced eco-adventure allows for plenty of time to enjoy the views along the 17 mile Na Pali Coast from every angle.  Explore its many sea caves and waterfalls in a way that only this versatile raft can. The journey along this secluded coastline will bring you alongside the majestic cathedrals of Kalalau.  Observe the playful Hawaiian Spinner Dolphins of Polihale.  Next, a snorkel stop (AM Tour Only) that may bring you face to face with Hawaiian Sea Turtles and a host of beautiful reef fish. ~Whale Watching Seasonally.
Activity Details
About The Boat:
37' NAIAD, Kauai Voyager I is a rigged hull raft built in 2020 and offers enhanced space and comfort. Enjoy individual seating and comfort comparable to a larger catamaran while also experiencing the maneuverability and speed required to access the Na Pali's smaller caves and waterfalls. A fully equipped restroom on board also alleviates a common concern with this style of boat.  Wrap-around safety rails enhance this versatile craft to make it safer for everyone. A sturdy ladder enhances the snorkel experience with safe entry and exit from the water.
Due to the newly added Ocean Stewardship Fee, we officially are going to implement that towards bookings for 2024. The added fee of $1 per person will be in effect starting December 15th for any bookings made for Jan. 01 2024 and there after. Mahalo for your support towards ocean stewardship programs!
Features of a Luxury Super Raft:
A large, accommodating bathroom
Comfortable seats for all passengers, with back & arm rests
A well-designed ladder for getting out of the water
An option for shade if you want to be out of the sun
Snorkel Gear – Snorkel on AM Tour only
Safety equipment and life rafts, hand rails
Speed, stability and maneuverability
Space to easily move about the vessel
A fresh water shower
Comfortably accommodates up to 28 passengers
Tour Restrictions:
Must be 7 years old
Not for women who are pregnant
Not for people with recent knee, neck or back surgeries or injuries
Please Note
72 hour notice of cancellation is required for a refund.
There are no timeshare visits required to enjoy our discounts!
Call 1-866-897-1637 for additional discounts available for large groups!