Doors Off Kauai Helicopter Tour 50-55 Minute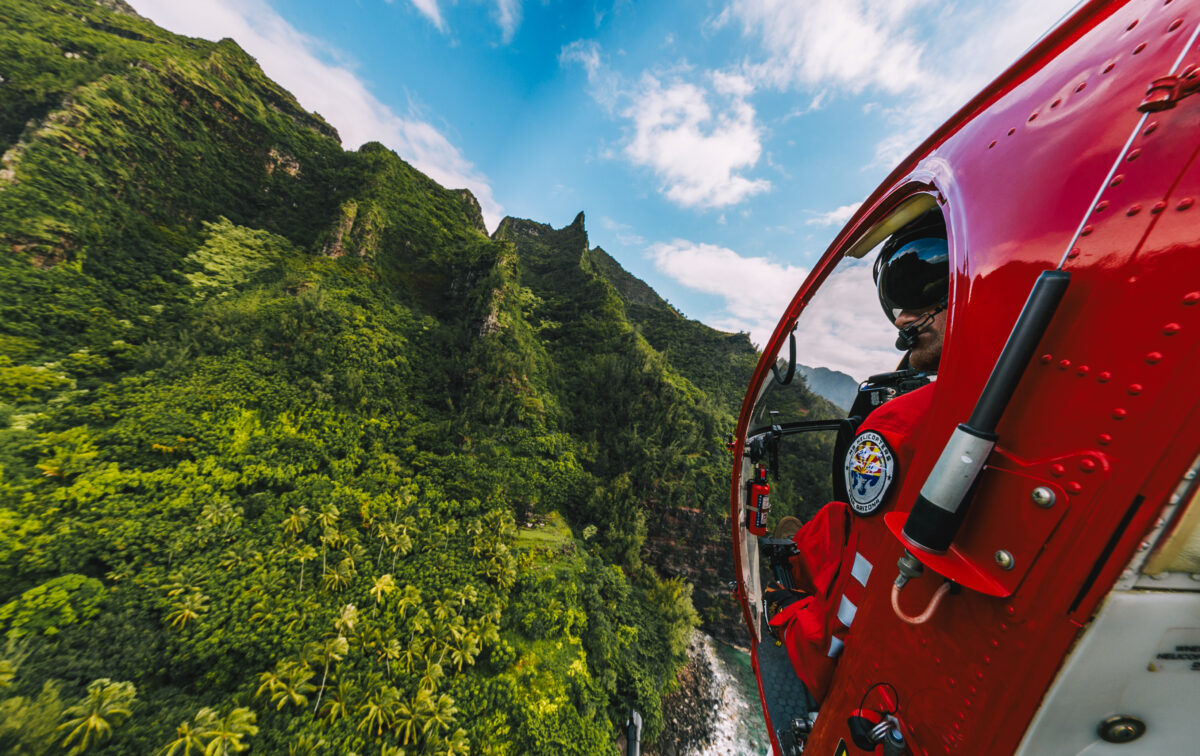 A thrill seekers view of Kauai remote landscape in a Doors Off Hughes 500
Flying in a helicopter with open doors is taking a flight to almost its purest form. Fresh air, unobstructed views, and tons of glare-free photo opportunities add tremendous value. This exhilarating journey will highlight the Waimea Canyon, Napali Coast, Waialeale Crater and much more.
Activity Details
Flight Description:
The DOORS-OFF ADVENTURE will take you over Kauai's most lush and scenic destination on the island!
View Bali Hai, also known as the Makana Mountain, which starts at the beginning of the Na Pali Coast on the north shore of Kauai. Soar over Manawaiopuna Falls, one of the Garden Isle's most famous waterfalls. Best known from the opening of the 1993 blockbuster film, Jurassic Park.  Watch from above as the water rushes over a 380-foot tall cliff surrounded by walls of deep green lush flora. Located within Hanapēpē Valley on the west side of the island, it is a site few can say they have seen while on Kauai.
Continue on over to Hanalei Bay which covers nearly two miles of beach and is backed by 4000ft tall emerald mountains: Hihimanu is on the east, Namolokama is in the middle with its square top, and the triangular shaped Mamalahoa is to the west.  Often cloaked with a mist of clouds the Mt.Waialeale ridge home to dozens of cascading waterfalls.
The name Waialeale, meaning "rippling water or overflowing" receives over 400 inches of rain per year and is known to be one of the wettest spots on earth. You're surrounded by enchanting waterfalls and lush green walls of fauna. Waialeale Crater aka Blue Hole & The Weeping Wall. From above you will see it all and find yourself lost in the beauty and mystery of Kauai's enchanting lure.
Other sites like the Wailua Falls and Waimea Canyon are also famous aerial sites on the Doors-Off Adventure Tour.
*Routes and sites may vary due to weather
Seating, Weight & Age Restrictions
Open Seating Max weight 240 lbs. 
Premium Seating For guests that weigh more than 240 lbs. or any passenger who desire to reserve in advance a seat adjacent to the open door.
Upgrade to Front Seats Front Seats are only sold as a pair (2) • Combined weight of both seats cannot exceed 340 pounds.
Must be 12 years of age or older.
The Federal Aviation Administration requires that we weigh each passenger prior to departure.
This weigh-in process is very discrete when you check-in.
For critical flight planning purposes we need to have the body weight of each passenger included in your order.
Any significant variance in the weights provided and actual scale weight could result in flight delays or possible cancellation.
Flight Times
8:15am
9:30am
10:45am
12:00pm
1:45pm
3:00pm
Please Note
72 hour notice of cancellation is required for a refund.
There are no timeshare visits required to enjoy our discounts!
Call 1-866-897-1637 for additional discounts available for large groups!