Outfitters Kauai Flyline Zipline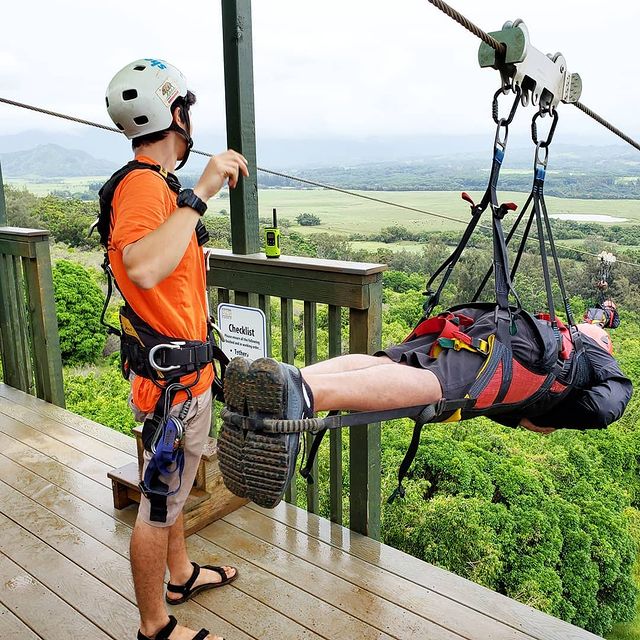 Hawaii's Longest Zipline Launches From The States Tallest Zip Tower!
Brand new from Kauai's original zipline company soar above Kipu Ranch at speeds up to 50 miles per hour! You'll be flying like Superman on Kauai's longest zipline at 4000 feet in length! This is the ultimate thrill ride! Calling all adventure seekers!
Spanning 4,000 feet, the tandem side-by-side zip lines provide an intense and thrilling high-speed flight through breathtaking scenery beneath Hina i'uka and the towering peaks of Haupu Mountain Range. Set on the pristine and secluded Kipu Ranch. The backdrop for this Fly Line Zipline is featured in scenes from many Blockbuster films such as Jurassic Park, Pirates of the Caribbean, Raiders of the Lost Ark, and The Descendants.  Prone, "head first" flyers, will not only be riding Hawaii's longest zipline but will take-off is from the state's tallest launching pad! This zipline is a must on your Kauai to-do list!
Activity Details
Tour Highlights:
Hawaii's longest zipline at 4000 ft., and tallest launching pad at 50 ft.
First zipline in Hawaii built and operated to most rigorous ASTM safety standards
Take off for an intense 4000′ flight over the beautiful Kipu ranch, reaching speeds over 50 mph in comfortable and thrilling prone "headfirst" position.  Side-by-side tandem lines.
Outfitters Kauai ziplines are designed, built, and operated according to the highest safety standards as set by the ACCT (Association for Challenge Course Technology).
Tour Details:
Available Monday Wednesday & Saturday at 4 pm
Cold bottled spring water provided after your zipline ride
WHAT TO WEAR AND BRING:
Windbreaker or raincoat
Sunscreen
Shoes or sports sandals with heel straps
Camera
Courage
RESTRICTIONS:
Riders must be over the age of 7
At least 4 feet tall
Must weight between 60-275 lbs.
Yes, you will be weighed & measured at check in
Please Note
72 hour notice of cancellation is required for a refund.
There are no timeshare visits required to enjoy our discounts!
Call 1-866-897-1637 for additional discounts available for large groups!