Ni'ihau Super Raft Snorkel Adventure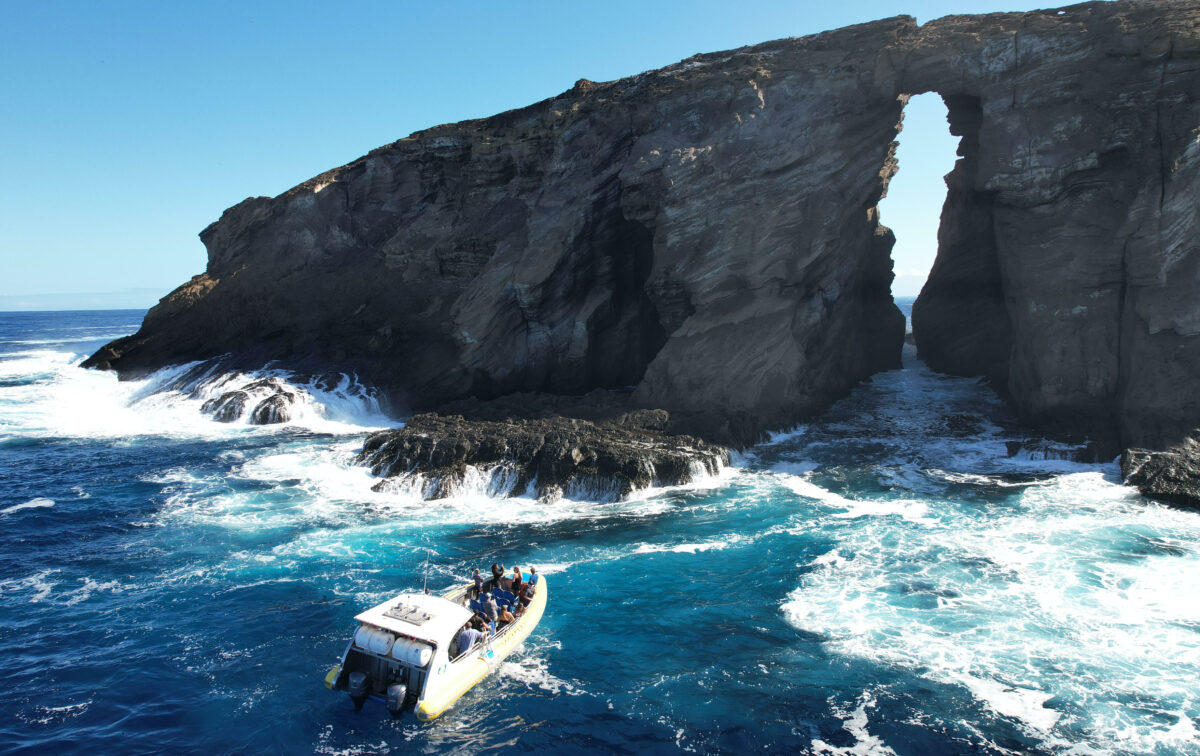 Ni'ihau Snorkel Tour Aboard 37' Luxury Super Raft
Ni'ihau the "The Forbidden Island" is located 18 miles off the western coast of Kauai.  It is inhabited entirely by those of Native Hawaiian descent. Kauai Offshore Adventures is proud to be the only company able to offer a raft tour to this remote and awe-inspiring destination. On this epic Ni'ihau Snorkeling Adventure, you will quickly cross the open channel to Ni'ihau and neighboring Lehua- a crescent shaped atoll and birdsanctuary, here your captain will share with you the rich and interesting history of the island while finding the best place to set up for a day of snorkeling or swimming.
The waters around Ni'ihau are among the cleanest and liveliest in the state, with visibility reaching in excess of 100 feet and a variety of sea life that is unmatched. Common sightings at Ni'ihau are Hawaiian Monk Seals, Eagle Rays, Spinner Dolphins, Sea Turtles, Octopus, and an endless array of fishes of varying sizes. This tour also gives the opportunity to find amazing Whale Sharks, Pilot Whales, and Humpback Whales in the winter. This Ni'iahu snorkel tour ventures to a remote destination and focuses on snorkeling, guests should be comfortable in the ocean and have at least a beginner understanding of snorkel equipment. All snorkel equipment is provided!
Activity Details
The Raft: 
37' NAIAD Kauai Voyager I is a rigged hull raft newly built and offers more space and comfort than any zodiac or other raft on Kaua'i. Our guests can enjoy individual seating and comfort comparable to a larger catamaran while also experiencing the maneuverability and speed required to access the Na Pali's smaller caves and waterfalls. A fully equipped restroom on board also alleviates a common concern with this style of boat, while wrap-around safety rails enhance this versatile craft to make it safer for everyone. A sturdy ladder enhances the snorkel experience with safe entry and exit from the water. There truly is no better way for the adventurous soul to see the NaPali Coast or Ni'ihau.
What are the features of a Luxury Super Raft?
A large, accommodating bathroom
Comfortable seats for all passengers, with back & arm rests
A well-designed ladder for getting out of the water
An option for shade if you want to be out of the sun
Safety equipment and life rafts, hand rails
Speed, stability and maneuverability
Space to easily move about the vessel
A fresh water shower
Top-of-the-line snorkel gear
Comfortably accommodates up to 28 passengers
Tour Details:
Tuesdays & Thursdays
Check in time 7:00am Port Allen Harbor
5 Hours
Appropriate for ages 7 years and older
Not for woman that are pregnant
Not for people with recent knee neck or back surgeries or injuries
Please Note
72 hour notice of cancellation is required for a refund.
There are no timeshare visits required to enjoy our discounts!
Call 1-866-897-1637 for additional discounts available for large groups!