Outfitters Kauai Kipu Zipline Safari
Duration: 6.75 hours
Location: Poipu or Lihue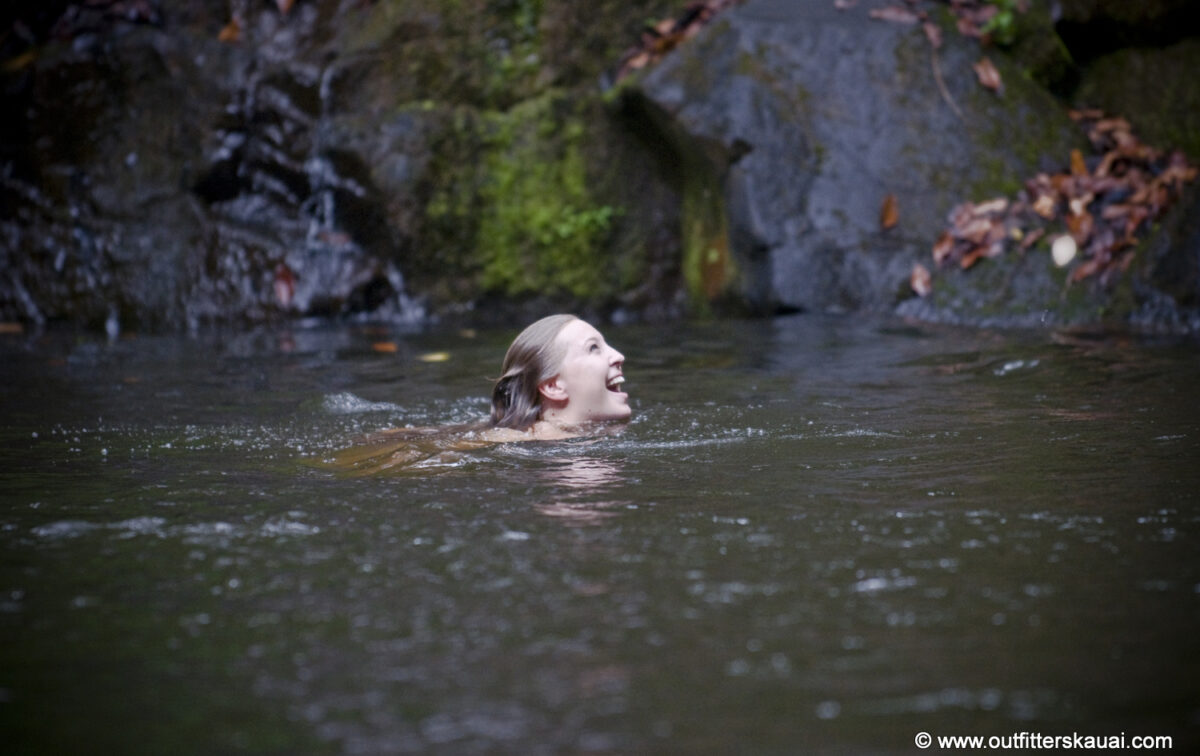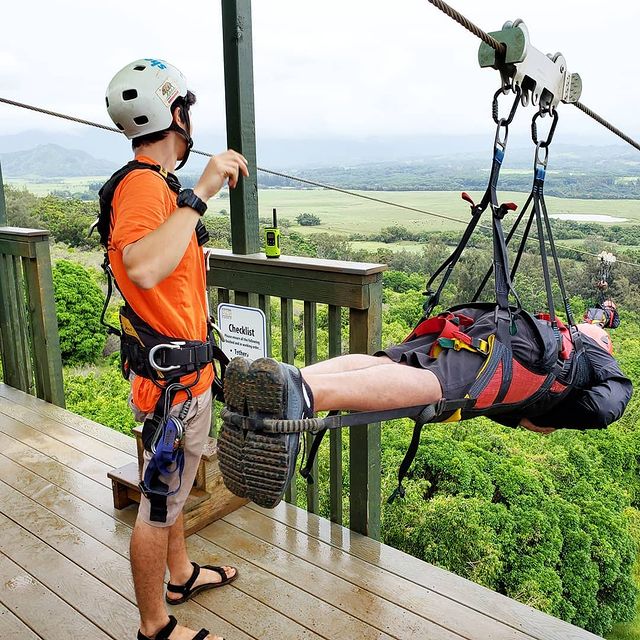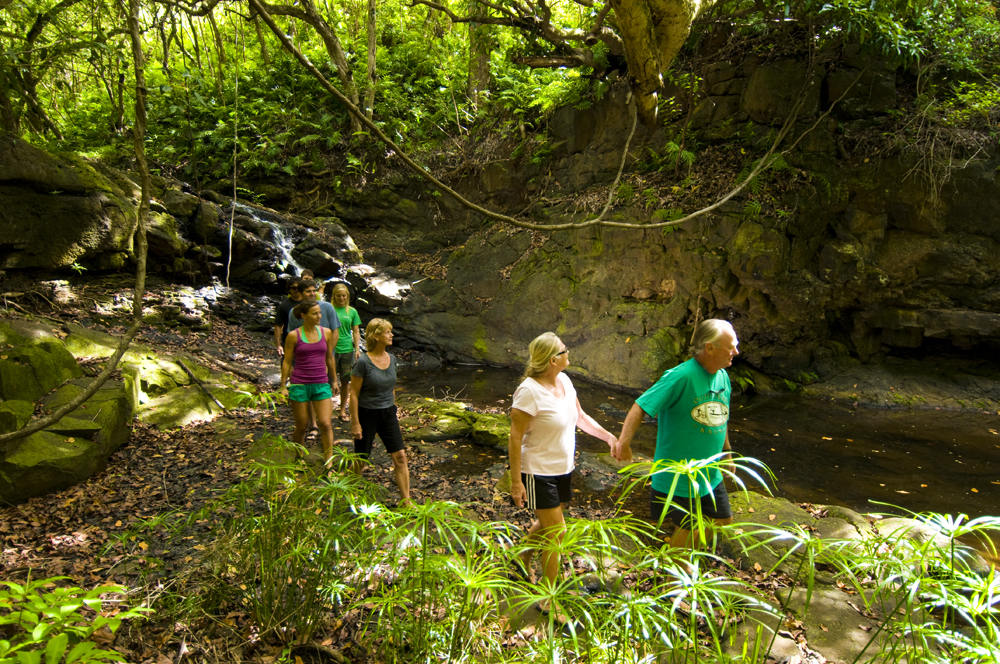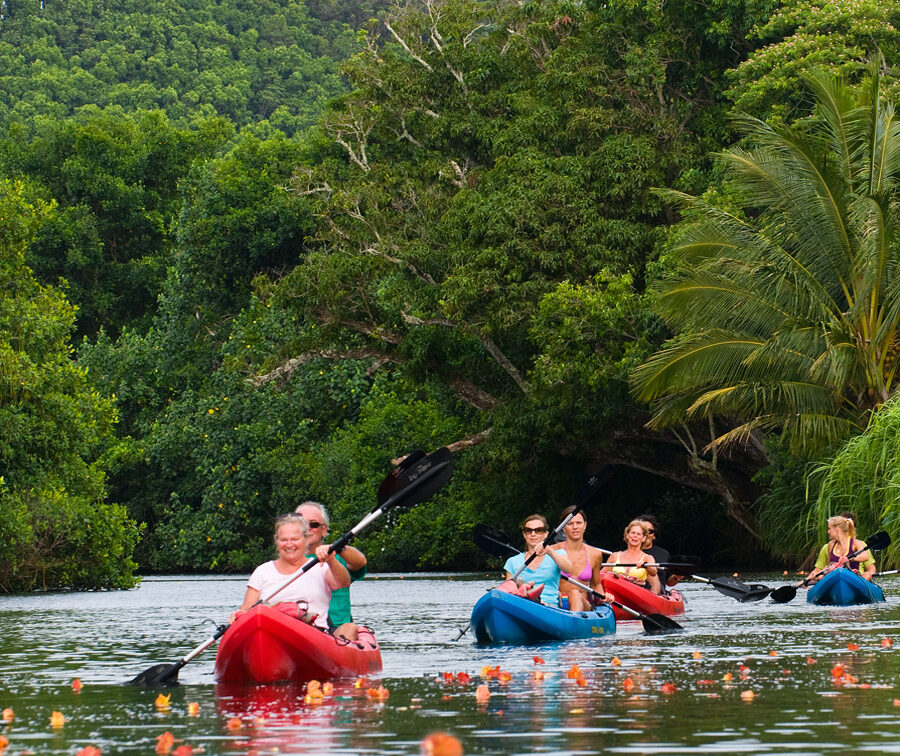 Booking this combo tour far in advance is a must!
Paddle. Ride. Fly. One of Kauai's most popular combo tours.  Start with a leisurely two mile kayak on the Hule'ia River listening to the sounds of tropical birds and hearing the stories of ancient Hawaii. Climb aboard Outfitters one-of-a-kind farm wagon and take in the spectacular views of Kipu Ranch – made famous in films like Jurassic Park and Raiders of the Lost Ark. Next stop the brand new Keko Kai zipline course. Enjoy a hearty picnic lunch. Marvel at the beauty as you traverse the lush rain forest on swinging bridges that float and sway in the tree tops above the wilderness floor. Ride the first of two brand new 1800′ ziplines that lands you a short hike from the opening of a recently discovered tunnel through the jungle. Hike a treetops walkway past giant tree ferns and you'll be face to face with the ride of a lifetime! New, impossibly long, tandem, center dismount zipline. Pair up with a friend and soar over a quarter of a mile above wild forest canopy for more than 90 seconds of thrilling flight.
If that wasn't enough, have a go at the brand new Blue Pool and the unique Waterzip Zipline! This mountain stream-fed swimming pool is the perfect place to cool off from the day's adventure with cliff jumps and the super safe and super fun Waterzip Zipline. When you are cooled off and ready to go, walk on down to the riverbank. Hop aboard, put your feet up, and relax as you ride back to the dock on a Hawaiian double-hulled motorized canoe to cap off your day of wild adventure!
Activity Details
What to Wear & Bring:
Wear your swimsuit under your clothes
Closed toe shoes that can get muddy or wet
Sweatshirt or light jacket
Sunscreen & bug spray
Water proof camera
Tour Times:
Tuesday, Thursday & Saturday Only
Check-in Time 9:00am
Tour Restrictions:
 Must be 7 years old, 60lbs & 4 Feet tall to zipline
Only 3 years old to participate in the adventure
Weight limit 275 lbs.
Passengers should wear shorts, t-shirt, and footwear with aggressive tread for muddy conditions. Bring a sweatshirt or light jacket, sunscreen, bug spray, and a camera.
Please Note
72 hour notice of cancellation is required for a refund.
There are no timeshare visits required to enjoy our discounts!
Call 1-866-897-1637 for additional discounts available for large groups!