Kilauea Kauai Food Tour
Duration: 4 Hours
Location: Kilauea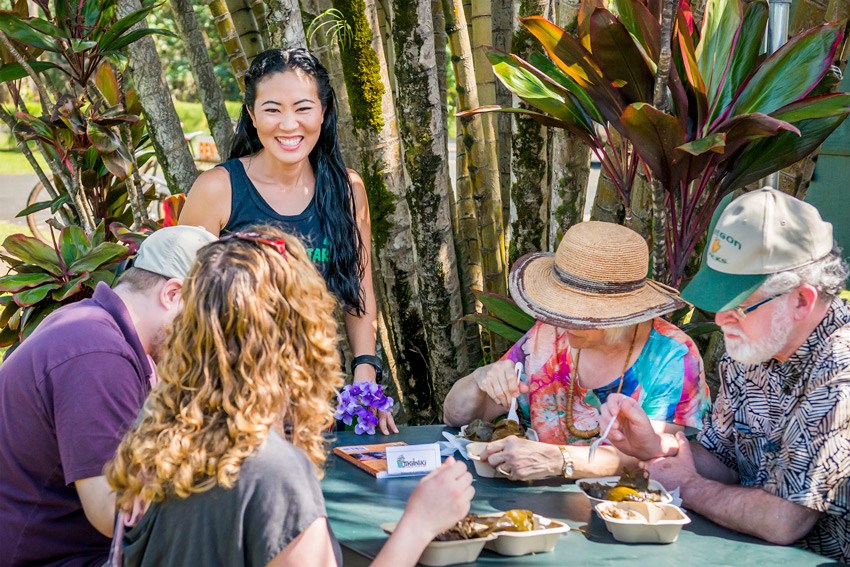 Taste Kauai's Best Foods & Meet Local Chefs
Come adventure with us on the north shore and try local fruits, teas, grass-fed beef, and fresh-caught fish. Learn about Hawaiian food culture and meet the makers of some of Kauai's best food.
Because our tours are seasonal and based on fresh ingredients, availability, and what we like right now, each tour has different tastings and experiences. You can count on a full day of eating delicious food and exploring what's fresh and seasonal on the Garden Isle! Hop in your car and follow our guide on a tasting adventure through Kauai's lush North Shore, sampling everything from food trucks to fine dining! As a small, family-owned business, Tasting Kauai adds a personal touch to create memorable experiences infused with aloha. This unique tour can't be experienced anywhere else on the island. Custom tours are available.
Activity Details
Tour Details:
Four-hour walking tour
Exclusive access
Visit a local farm with educational info
Intimate groups
Personal introductions to some of Kauai's top chefs
Experience out-of-the way establishments, shops, food trucks, and local farms
Sample traditional Hawaiian food and learn about the North Shore's healthy food culture!
Enjoy some of the best food the North Shore has to offer!
Monday & Tuesday / Advance reservations required
All Kauai Food Tours require cancellation 7 days in advance for a refund.
Please Note
72 hour notice of cancellation is required for a refund.
There are no timeshare visits required to enjoy our discounts!
Call 1-866-897-1637 for additional discounts available for large groups!