Jack Harter "Doors Off" Helicopter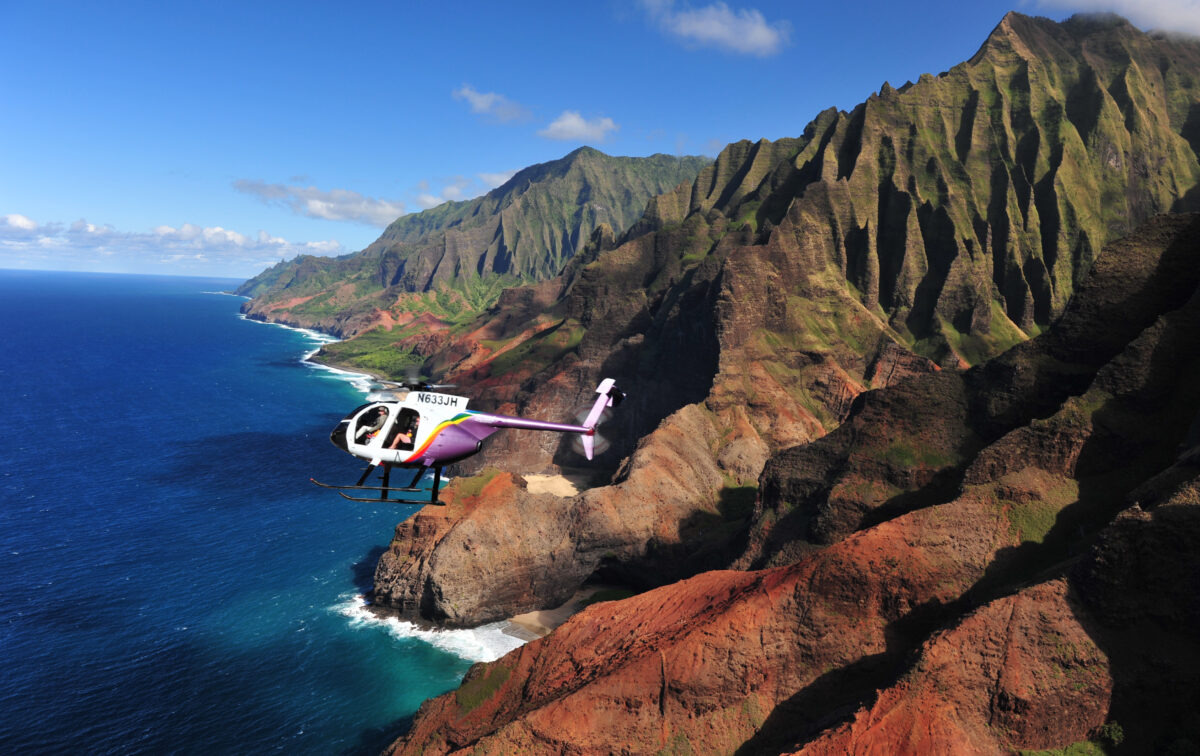 Kauai's Most Exciting "Doors Off" Helicopter Tour!
If you would like to add a little more excitement to your Kauai helicopter tour, check out our Jack Harter Doors Off Helicopter Tour in their Hughes 500. The Hughes 500 can hold 4 passengers in addition to the pilot and adds even more thrill without doors. Envision yourself flying over the tree tops with the wind in your hair. Soaring through jungle valleys and flying inside ancient canyons. Photographers especially love flying without doors as there is no window glare to deal with.
The island tours flown in the Hughes 500 are different from any of the others. Removing the doors from the helicopter can often make the flights feel more thrilling than those flown in a helicopter with doors. You should bring a jacket or sweater, wear long pants and footwear that won't fly out the door while touring. We do not recommend wearing the rubbah slippahs.
This hour long tour is the perfect introduction to all of the Garden Isle's natural wonders. Provides ample time for the pilot to show you Kauai's most popular and most magical sites, rotating the aircraft to give you 360 degree views. Any tour less than an hour long will leave you begging for more time in the air. Do not forget. On this heli-tour, you will be flying with NO doors! We promise that this is an exhilarating way to see the island, but if you are unsure about having the doors off, we have many other options to choose from.
Activity Details
Tour highlights:
Hanapepe Valley
Manawaiopuna Falls
Olokele Canyon
Waimea Canyon
The spectacular Napali Coast
North Shore
Hanalei Valley
Mt. Waialeale's Crater
Wailua Falls
Additional Information:
 No children under the age of 10 (no lap riders)
Any party with a person 150 pounds or less might be in the front center seat and that seat is NOT AT A DOOR OPENING. The view from the front middle seat is great, you see everything in front of the helicopter (like the pilot flying the helicopter) and can look out both open sides.

 
ABOUT JACK HARTER:
Jack brought his first helicopter to Kauai back in 1962. His dream was to start his own helicopter business on the island offering tours, charters, and utility services. Jack Harter Helicopters has been in business on Kauai for the past 50+ years, maintaining its status as the original helicopter tour company on the island.
TOUR RESTRICTIONS:
Weight and balance of the helicopter are crucial please give accurate body weights at the time of reservation.  The weight limit is 250 pounds per person and 400 pounds per couple. Please call with any questions or concerns.
Please Note
72 hour notice of cancellation is required for a refund.
There are no timeshare visits required to enjoy our discounts!
Call 1-866-897-1637 for additional discounts available for large groups!