Kauai Bass Boat Fishing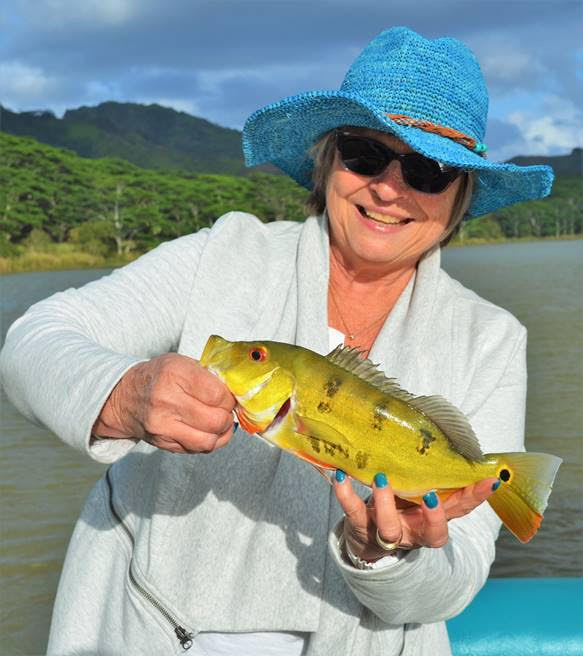 Kauai's Only Bass Fishing Charters!
Spend a day with friends and family on Kauai's beautiful Waita Reservior fishing for Big Mouth Bass, Tilapia, Tucunare (aka Peacock Bass), and much more.   Fishing off a 17″ Aluminum Bass Boat at this private location, a guide will bring you to the "sweet spots" and other destinations of interest to fish at your leisure. Kauai Bass fishing charters can accommodate 2 to 6 people per charter. For private charters please call for details and availability.
Waita Reservoir is a treasure hidden away from crowds.  Here is the largest inland body of fresh water in the state of Hawaii. Located on private property, Waita is inaccessible to the general public. This secluded hideaway is ideal for sightseeing and recreational activities. Enjoy bass fishing on these calm and protected waters in this tropical paradise with catch and release fishing.  A great place to really get away. Located on the sunny south shore of Kauai these peaceful surroundings and breathtaking views are only accessible on these excursions.
This is an exclusive tour with limited availability booking in advance is recommended.  This is an unforgettable adventure that creates memories to last a lifetime!
Activity Details
Provided On Tour: 
Fishing reels & rods
Fishing guide
Bait or lures
Life vest
Beverages
What To Bring (Recommended):
Bug spray, sun screen, and water-friendly footwear
Towel and a wind breaker for windy days
What not to bring:
Alcohol strictly prohibited
Any valuable that you don't want damaged or lost
Tour Restrictions: 
No persons with back problems
No persons who have had recent surgeries within the last three months
No pregnancies
Age requirements:
Minimum age is 5; 5-17 must be accompanied by an adult
Minors under the age of 12 are required to wear a life vest
Please Note
72 hour notice of cancellation is required for a refund.
There are no timeshare visits required to enjoy our discounts!
Call 1-866-897-1637 for additional discounts available for large groups!