PADI Open Water Certification
Duration: 3 Days
Location: Poipu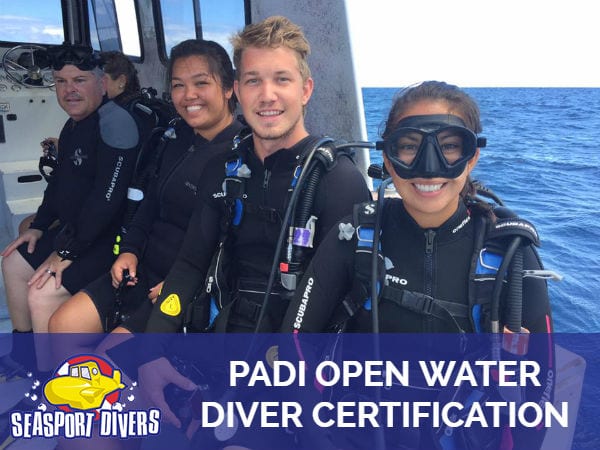 Get Your Scuba Diving Certification Right Here On Kauai!
Classes run three consecutive days starting on Monday, Wednesday, or Friday
Pick up your reading materials ahead of time and come prepared to class with the manual finished and the Knowledge Reviews for each section completed.
Activity Details
Schedule:
For the first day of class you will check in at 8:30 for the classroom portion of the course. This consists of watching videos, going over the knowledge reviews, and taking your exams and quizzes. We will provide water and snacks, but you will have a break for lunch mid-day, so you can bring a packed lunch, or there is that market next door that you can grab food at. In the afternoon you will go to Kukui'ula harbor for your confined water training. Finish time will depend on how comfortable you are with all the skills, but it is usually around 4:30.
On your second day, you will check in again at 8:30 AM for your first two Open Water dives at our shore location, Koloa Landing. You will be done around 12:30. We will provide snacks and water throughout the morning.
On your final day, you will either check in at 8:30 AM for your last two dives from shore, or if you decide you want to do the boat upgrade, you will check in at 12:30 PM for your final two Open Water dives off the boat. You will be back to the store about 5 PM, then you will finish up logbooks and paperwork, get your pictures taken and your instructor will process your temporary certification cards. Then you will be Open Water certified for life!
Requirments:
To be certified as a PADI Open Water Diver, you need to be at least 10 years old, fit for diving, and able to swim.
Please Note
72 hour notice of cancellation is required for a refund.
There are no timeshare visits required to enjoy our discounts!
Call 1-866-897-1637 for additional discounts available for large groups!