Kauai Backcountry Zipline Tour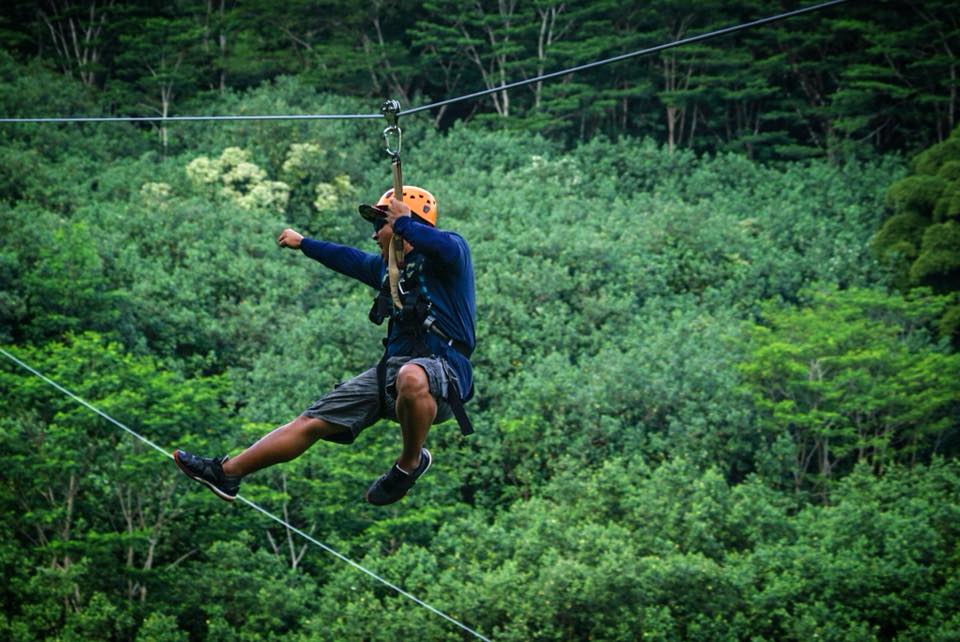 Fly Above The Kauai Rainforest!
Imagine the thrill of soaring like a bird over a pristine rainforest. On Kauai Backcountry Zipline Tour, you can "get high" on this exhilarating experience! Fly across seven ziplines that descend a stunning mountainside. Feel the rush as you glide over lush tropical forests and deep valleys below. With exclusive access to over 17,000 acres of former plantation lands, this is truly a unique zipline experience.
Your adventure begins with a fun, informative, scenic ride in a four-wheel drive vehicle. Along the way, your certified guide shares interesting information on island history, culture, flora, and fauna. When you arrive at the first zipline, you receive a thorough briefing, preparing you to soar over tropical forests, streams, and jungles rich with magnificent scenery! Zoom down the mountainside, sailing along on a series of seven ziplines, as you make your way to the lush valley floor below.
End your zip with catered snacks in a bamboo grove and a refreshing swim. Relax, bask in the sun, or just soak in a private natural swimming pool. Take one last dip in the water before heading back to home base! This is truly an incredible journey that leaves you with vacation memories to last a lifetime. This zipline tour sells out in advance so be sure to get your reservations in as early as possible.
Activity Details
Tour Includes:
What To Wear & Bring:
Tour Restrictions:
All guests are weighed at check-in. Those outside the 100 – 250 pounds range are not able to participate
Children under the age of 16 must be accompanied by an adult
Must be 12 years old to participate
This activity is not recommended for those uncomfortable with heights or with back, hip, or knee problems
Please Note
72 hour notice of cancellation is required for a refund.
There are no timeshare visits required to enjoy our discounts!
Call 1-866-897-1637 for additional discounts available for large groups!