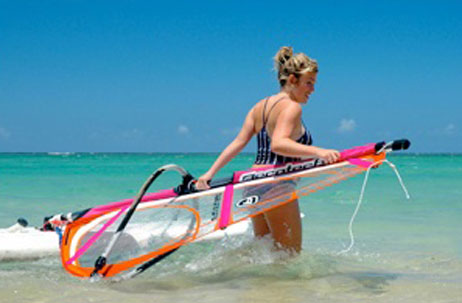 discount price
Save: $6.00
Celeste Harvel – Certified master instructor – 17 years experience – perfect safety record.
Easy – Fun – Safe

Windsurf Kauai is located on the beautiful north shores' Anini Beach.  No previous experience necessary.  Must be able to swim.
Check in 5 minutes prior to lesson. Students learn basics of windsurfing, sailing, steering, turning around, style etc. You will start with a 30 minute lesson followed by 1.5 hours sailing. All equipment included. 6 students maximum per class. Lessons offered Monday thru Friday.
Check in Times
10:00am & 12:00pm depending on availability. Must be at least 5 years of age.
Toll Free Reservations by Phone:
1-866-897-1637
Office Hours: 7:30 a.m. - 4:30 p.m. :: The Current Kauai Time is: 3:27 PM
PLEASE NOTE: 72 hour notice of cancellation is required for a refund.
There are no timeshare visits required to enjoy our discounts!
Call 1-866-897-1637 for additional discounts available for large groups!