The best whale watching tours on Kauai.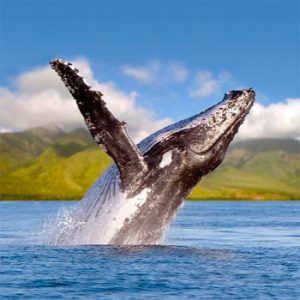 As I write this in the middle of January, the Kauai whale watching season is in full swing. Humpback whales make the 2,800 mile journey from Alaska down to our Hawaiian waters every year and we start spotting them as early as October and they stick around, playing in the warm waters,all the way through April.
Did you know that Humpback whales are endangered? It's true, these magnificent creatures were hunted until there were only 10% of the population left, but they have been making a steady comeback since the International Whaling Commission banned non-subsistence whale hunting of the North Pacific humpback in 1965 and further protected under the U.S. Endangered Species Act of 1973. The recent Pacific Humpback whale count is approximately 21,000 and 10,000 of these whales use the Hawaiian islands for their primary wintering ground. Just like everyone that visits, they sure love the Hawaiian Islands which now holds the largest seasonal population of North Pacific humpbacks in the world.
There are many ways that you can see the whales in Kauai, but a boat tour or a whale watching cruise are the absolute best way to get up close with these amazing animals. It's truly a life affirming experience to see a mother whale with her calf swimming and playing in these waters. The calves may arrive with their mothers, presumably born along the way, or they are born in Hawaii. Sometimes we will also see a young whale that was born the previous year and made the trip with their mother to Hawaii, now a yearling. It's a wonderful sight and you will see these young whales playing in the warm waters of Kauai. Not only will you see calves, but you may catch some incredible displays of acrobatics where they can launch their whole, massive bodies out of the water during a breach. Tail slaps, pec slaps, blows, and occasional synchronized dives with two huge flukes (tails) up. It's quite a show!
With a few different Kauai whale watching tours to choose from, we are sure that we have something that will be fun for you and your family or friends. One way to take advantage of Kauai's most spectacular natural assets is combine whale watching cruise with our mind blowing sunsets. Experience the thrill of seeing humpbacks frolicking in Kauai's waters followed by the serenity of a ocean sunset cruise and you will definitely know that you are in paradise. If you want to learn even more about these ocean roaming mammals, there are small zodiac boat tours with an on-board expert and even get to listen to live whale songs using an underwater microphone. It's truly a once in a lifetime experience.