Kauai has the best ziplines in the world!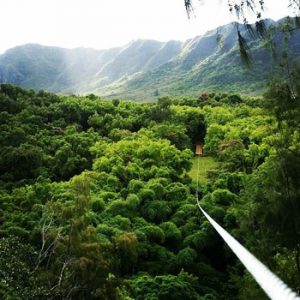 Kauai Vacation Tours has the best deals on all of the premier Kauai zipline tours on the whole island. You can choose from the quick "Wiki-wiki" zipline tours if you are short on time (2 1/2 hours) or you can spend half a day among the tree tops experiencing the most incredible zipline adventure in Hawaii with the longest zip lines on the island.
We work with only the highest rated outfitters who have created courses that both exhilarate and educate while you explore the spectacular beauty of Kauai. Enjoy the unsurpassed scenery while flying through the air from a series of suspension bridges and aerial platforms and walkways. One of our outfitters even has a tree house with a view that will blow your mind. During your adventure, you'll see and learn about the abundant diversity in Kauai including pine, mango, eucalyptus, bamboo, and many native plants, trees and birds.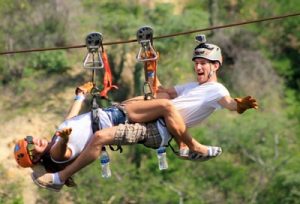 Take the Adrenaline zipline course, for example. Already one of the best zipline courses on Kauai, it was recently upgraded with more height, more speed, and more length, all adding up to even more fun! They have built three, one thousand (1000) foot tandem ziplines that allow you to double down on the fun. If that is not long enough for you and your zip partner, there is also a new 4000 foot tandem zipline the flies through the Ha'upu Mountains!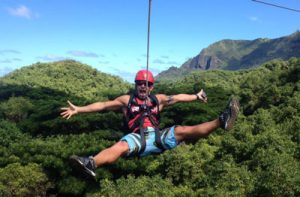 You can soar above the famous Kipu Ranch, a massive four thousand acres of breath taking terrain that takes you from jungle valleys and rivers to mountains towering over three thousand feet. Pristine valleys with a range of fountains, pools, cascades, waterfalls, and streams. Did you see the academy award winning film, "The Descendants" with George Clooney? If you did, you will definitely recognize the incredible scenery.
We've put together packages from the best outfitters offering an incredibly diverse array zipline adventures.
Imagine starting your day riding from aerial platform to platform through huge groves of Norfolk Pine trees and spending the afternoon jumping off a rope swing into one of the many natural swimming pools fed by mountain springs. In the evening, we can arrange a world class cruise to take in Kauai's famous sunsets for you and your loved ones.