Kauai has the best Luaus in Hawaii!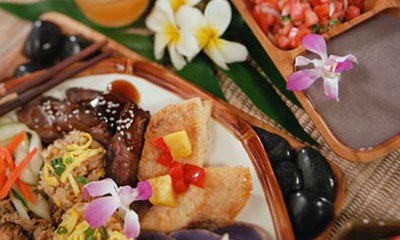 Long before the Polynesians made the epic journey to Hawaii, feasting with family and friends had been recognized as a universal form of celebration. Feasts mark the passage of time and celebrate significant events with food and joy, symbolizing the abundance of life. Over the years this pleasurable pastime has evolved into a unique Hawaiian cultural experience that combines the sacred, symbolic and even mystical. To this day, our Kauai luaus celebrate the relationship between the physical body and the divine spirit. Luaus create happiness and bring everyone together.
Feasts on Kauai and the other Hawaiian islands were originally called an 'aha 'aina. An 'aha is a gathering and 'aina a meal. These gatherings, rich with food, signified special occasions such as the completion of a new boat, coming to an important milestone in life, winning a battle, or another great accomplishment. Hawaiians have always celebrated events such as these with their family, friends and neighbors.
Historically, the bountiful food and observance of certain rituals at an 'aha 'aina were filled with symbolism and the whole affair was created to unite all those in attendance. Some types of food represented power and strength while the nature of other foods were symbolic of virtues or endeavors those partaking in the feast hoped to achieve. Common in those times, many foods were forbidden to regular citizens and women. Luxuries, such as the pig, bananas and moi, also known as the "Fish of Kings" were prepared for only the Alii, chiefs of the Hawaiian islands.
Hele mei hoohiwahiwa! Come and celebrate!
Before 1819, men and women ate separately at the 'aha 'aina. At that time, religious reform was taking place and although King Kamehameha had continued the traditional ways of his ancestors, he had relaxed strict observance of the kapu, opening the door to western influences. To symbolize this change, King Kamehameha II feasted with both men and women to signify the cultural and societal changes. Not long after, the term luau began replacing 'aha 'aina. Luau is actually the term used for young taro leaf that is cooked and eaten like spinach. Traditionally, a luau would be eaten on a floor laid with mats made of the leaves of the hala tree.
Historically, Luau participants would enjoy poi (staple of Polynesian food made from the taro plant), dried fish, and pork cooked in the traditional Hawaiian underground oven called an imu. These delicacies, along with sweet potatoes and bananas all eaten with one's fingers. These luaus were huge gatherings that could number in the hundreds or even thousands.
The modern Luau is still a special event celebrated with families and friends. Just like luaus found on all Hawaiian islands, our luaus on Kauai are special gatherings where guests can experience a traditional luau and it's super ono (delicious) food including kalua pig, lomi lomi salmon, island fish, poi, sweet potatoes, rice, or enjoy many of the American favorites. Theses incredible feasts usually include tropical cocktails as well as amazing desserts.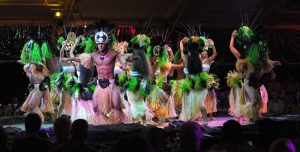 All of our luaus include incredible performances from graceful Hula dancers, Fire poi ball twirlers, and traditional fire knife dancing. These are award wining Hawaiian shows with state-of-the-art media systems. In addition to enjoying a celebratory feast, a luau also provides and opportunity to experience Hawaiian culture. Depending on which luau you choose, you may also participate in Hawaiian games and view arts and crafts demonstrations.
Luaus are one of the most popular activities on Kauai. It's a wonderful Hawaiian experience and one that you should not miss. The luaus in Kauai have something for everyone – just make sure you bring your appetite!
Pick your favorite Luau and reserve your seats early. Luaus are a favorite activity and tend to sell out early. Kauai Vacation Tours has the best prices on all Kauai luaus!
Ho'olu komo la kaua! Please join us.