Kauai ATV Waterfall & Scenic Tours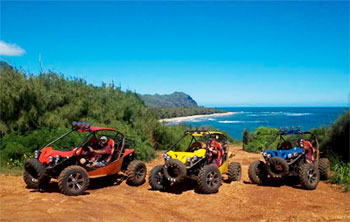 Kauai Vacation Tours offers great discounts on the best Kauai ATV Tours! Would you like to visit a cascading waterfall riding along 23 miles of trails in the lush tropical jungle? Maybe take a scenic ride to the top of Mt. Haupu, ride along the Hule'ia River to the rope swing from Indiana Jones Raiders of the Lost Ark! Let us guide you to many secret scenic views of Kauai's pristine beauty.
Travel Kauai's back roads on an all terrain vehicle of your choice. For our adventurous partakers, may we suggest our newest vehicle the Mud Bunny exclusively available at Kauai ATV. A one passenger dune buggy complete with roll bars its compact size offers great maneuverability. For a family of 4 take out a Kawasaki Teryx-4 750 and kids as young as 5 can jump on and enjoy the ride!
Let us help you choose the best off-road tour on Kauai to suit you, your family & friends.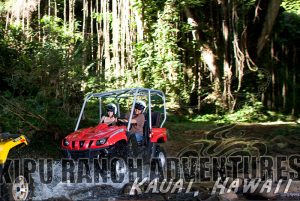 On one of our 4 hour Waterfall Tours you will visit 2 different waterfalls on Kipu Ranch, a private ranch here on Kauai only to be seen on a guided tour. You will relax, swim and enjoy a delicious picnic lunch at a beautiful cascading falls. Covering up to 23 miles of challenging off road terrain you will be in awe of the incredibly diverse views.
You don't want to strip down and take a swim? A catered deli lunch isn't intriguing? Sign up for our 3 Hour Ultimate Ranch Tour and embark on a beautiful and breathtaking journey through lush landscape on Kauai's south shore. Visit famous movie sites, take in spectacular mountain and ocean vistas & panoramic views of this untouched paradise.