Private Napali Coast Cliff Top Hike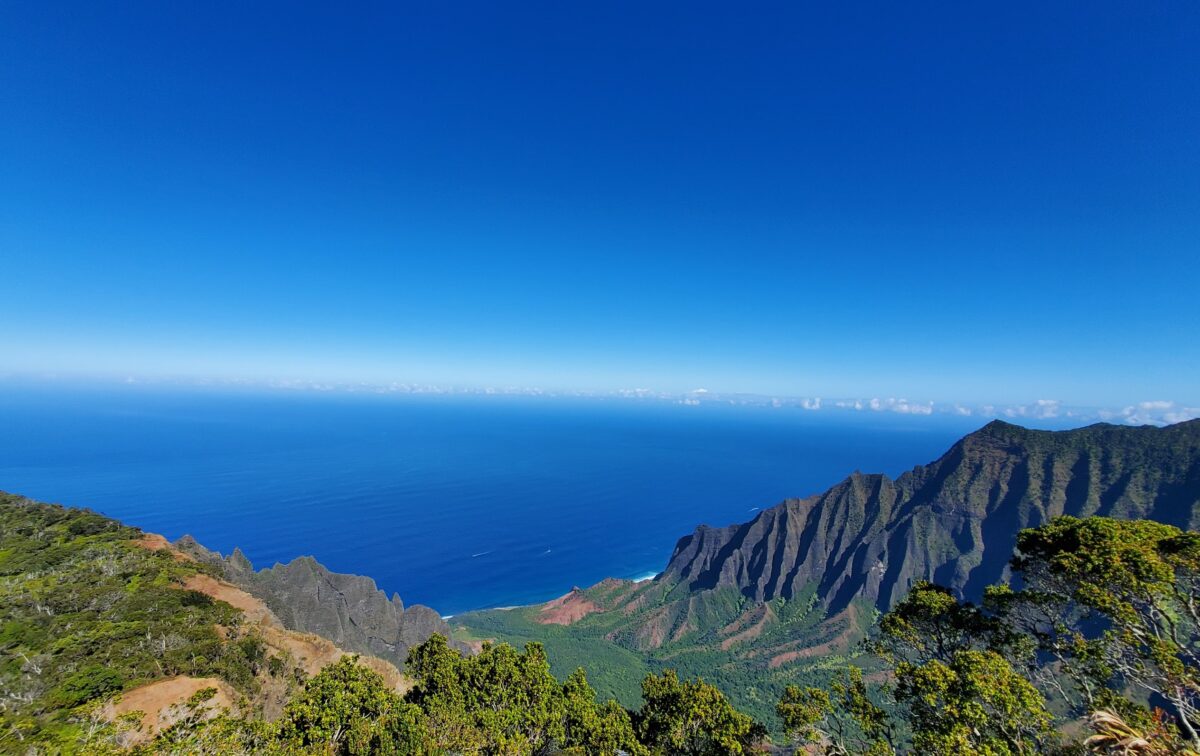 Private Kauai Napali Coast Cliff Top Hike Sweeping Views of the Most Dramatic Sections of the Famous Napali!
Accessible only by foot NaPali Coast Cliff-Top Hike is designed to give you an in-depth look of the NaPali Coast from a unique vantage point few have seen – a narrow ridge thousands of feet above the ocean! While these hikes can be muddy, slippery and strenuous, you will be amply rewarded for your effort with sweeping views of the most dramatic sections of the famous 17-mile-long NaPali Coastline.
Meet your Kauai Hiking Tours guide and hop into a comfortable coach. Driving East – West, you'll witness a change in vegetation and climate as you transition into the "rain shadow", characterized by the arid farmland of the island's "leeward side" (on opposite side of mountains from typical trade wind direction). Along the way you'll pass through the agricultural towns of Hanapēpē and Waimea and learn the important role they played in Kauai's history. Your tour continues across the center of the island, winding along the rim of Waimea Canyon and to the North Shore, 4,000 feet (1220 m) above the spectacular NaPali Coast. Rainbow-colored canyon walls and cool mountain air create an otherworldly ambiance that's unlike anything you've experienced.
You will stop at a few spectacular Waimea Canyon overlooks, including one with a view of 800 ft. Waipo'o Falls, before beginning the ridge hike from one of the trail-heads in Kōkeʻe State Park. There you will enjoy jaw dropping views of the world famous NaPali Coast.
PRICING BELOW IS FOR 1-4 PEOPLE FOR A PRIVATE TOUR, JUST YOUR GROUP AND THE HIKING GUIDE.
EACH ADDITIONAL PERSON AFTER 4 WILL INCUR AN ADDITIONAL COST ALSO LISTED BELOW. 
Activity Details
QUICK DETAILS:
Difficulty:

 Moderate/Difficult

Duration:

 6-7 hours

Distance:

 2.5 – 8.5 (round-trip)

Elevation Gain:

800-1,600ft
What To Bring:
Kauaʻi Hiking Tours will provide extra water, bug spray, sunblock, and specialized hiking safety equipment as appropriate for current trail and weather conditions. For most tours guests are expected to wear appropriate outdoor attire and bring basics such as a day pack, hiking shoes, water, etc.
A detailed, tour specific, gear list will be emailed upon booking. Equipment needs depend on the tour booked. Within 24 hours of purchasing your tour, a trip-specific list of recommended equipment, aka "gear list," will be included in your confirmation email. If you don't have something on the gear list, don't worry! Let us know, we will find a way to make it work with a stockpile of "lender gear".
Your guide will carry a well-stocked first aid kit, extra sunscreen, bug spray, and hike specific safety equipment as needed. Please keep in mind that the weather on Kauaʻi is localized and changes often. Additionally, the temperature is generally about 15 degrees colder in Kōkeʻe and Waimea Canyon State Park(s) than on the coast. For this reason, we request that you heed the gear list and do your best to prepare accordingly.
Please Note
72 hour notice of cancellation is required for a refund.
There are no timeshare visits required to enjoy our discounts!
Call 1-866-897-1637 for additional discounts available for large groups!