Private South Shore Coastal Hike to Sea Cliffs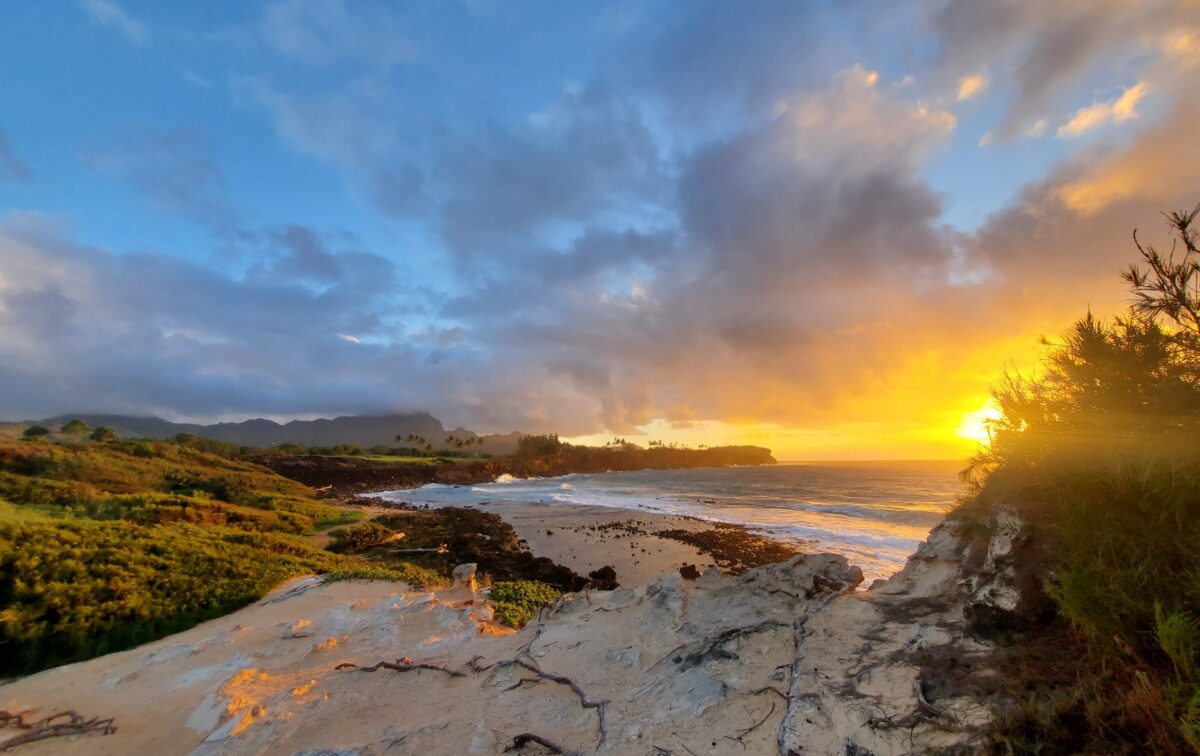 Hike The Amazing Sea Cliffs and Look Out Over The Waves!
Feel the Power of the Ocean on this Kauai Trail. Smell the salt air as crashing waves explode below you. The compacting of air within the cliffs creates a special surprise. This Kauai hike will take us to a promontory, where you'll see impressive views of Hāʻupu Mountain, Kawelikoa Point, and deep into the Kauai Channel in the direction of Oʻahu (which you can see at 108 miles away on extremely clear days).
Maha'ulepu (MA·HA ule·PU) is an area rich in natural and cultural history. Learn about the epic land and sea battle that was fought and won here by the people of Kauai in the 1300s, giving it the name Maha'ulepu which literally means "and falling together."
Maha'ulepu is one of the last remaining stretches of undeveloped coastline on the South Shore. This area is still fiercely protected by locals, who recognize its unique historical significance and aesthetic value and fear more resort development.
Know you'll be doing your part! 10% of every Kauai tour will be donated to Makauwahi Cave Reserve and or Mālama Maha'ulepu.
TOUR PRICING IS FOR 1-4 PEOPLE FOR A PRIVATE TOUR, JUST YOUR GROUP AND THE HIKING GUIDE.
Activity Details
QUICK DETAILS:
Difficulty:

 Easy

Duration:

 2-3 hours

Distance:

 1-4 miles (round-trip)
SNORKELING ADVENTURE ADD-ON:
Linger in this serene setting for another hour, while some or all of your group go snorkeling. This option will add about two hours to the tour time due to time in the water, driving time, and fitting snorkel gear in the morning.
What To Bring:
Kauai Hiking Tours will provide extra water, bug spray, sunblock, and specialized hiking safety equipment as appropriate for current trail and weather conditions. For most tours guests are expected to wear appropriate outdoor attire. Bring basics such as a day pack, hiking shoes, water, etc.
A detailed, tour specific, gear list will be emailed upon booking. Equipment needs depend on the tour booked. Within 24 hours of purchasing your tour, a trip-specific list of recommended equipment, aka "gear list," will be included in your confirmation email. If you don't have something on the gear list, don't worry! Let us know, we will find a way to make it work with a stockpile of "lender gear".
Please Note
72 hour notice of cancellation is required for a refund.
There are no timeshare visits required to enjoy our discounts!
Call 1-866-897-1637 for additional discounts available for large groups!